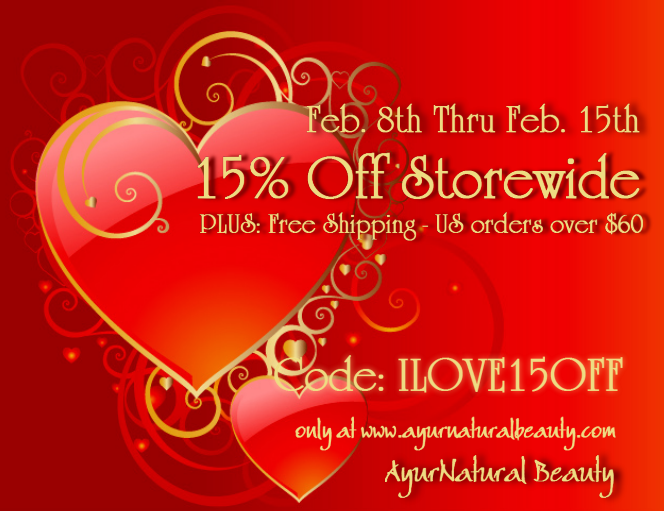 Hey Everyone!
Hope you all had a great weekend relaxing, hanging out, or both. Were any of you able to get in an ayurvedic treatment? Me? Nothing for my hair, but I did mix a quick paste of amla and rose petal powders with warm water for a face mask. 20 Mins later, my face felt great! I followed with a little rose water and got right into the rest of the day. My hair is jealous of my skin now.. lol.. Its very simple to make: 1 tablespoon of amla, 1 tablespoon of rose petal powder, enough warm water (or rose water) to make a thick paste. Use any excess on your neck, avoid the sensitive eye area.
Ok, onto the point for this entry... I'm excited for a couple of reasons:
1) If you received the email flyer this past Friday, then you saw that there is a sale starting Monday through Feb. 15th!
15% Off Storewide
, with a minimum $10 purchase
PLUS
free shipping when you order $60 or more (US addresses only)! Coupon code is
ILOVE15OFF
Only at
www.AyurNaturalBeauty.com
. While supplies last.
2) Also, in the newsletter, an
EXCLUSIVE SOCIAL GIVEAWAY
was announced! Strictly for our blog subscribers, Twitter followers, and Facebook fans! I will be giving away a different item (or items) each and every week through April 2nd to one lucky winner across the sites! Think that's too much? Well, if you are subscribed to all 3, that's 3 entries! Two for two, and of course, one for one. One winner per week. To be fair, you can only win once during the entire promotion. Winners announced every Friday. I'll announce this week's prize tomorrow.
So, yes, I'm excited... I hope you all are too!